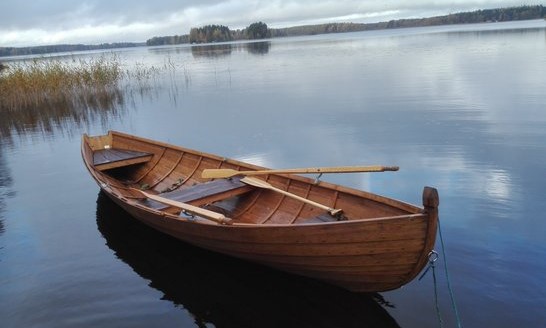 Jarmo Jauhanen is a boat builder from Rantasalmi, who is familiar with traditional boat designs. Designed and made by Jauhanen himself, the wooden, Savo-style traditional rowing boat model is based on 125-year-old designs. In 2015-2016, Jauhanen studied the boatbuilding tradition of South Savo and got to know a total of 40 old boat models. Based on these, he has created his own, modernised wooden boat, which feels at home on the Saimaa.
I make the boats from boat board, which is all wood, except that the boat board is glued from several different pine veneers. This has made it durable, attractive and easy to maintain.
- boat builder Jarmo Jauhanen
Jauhanen makes boats by hand from start to finish in his own workshop in Rantasalmi. Customers can visit to see their boat being built and tell him about their specific wishes. For example, the height of the benches, the length of the oars and the shade of surface treatment tint are always carried out according to the customer's wishes.
Contact

D.O. Saimaa -labelled products