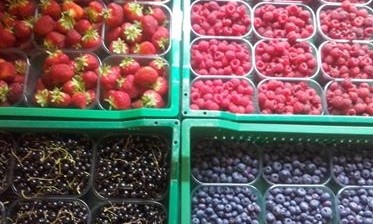 Fresh berries and vegetables
The Teittinen farm is located in Juva, in the village of Vuorilahti, on the shores of Enovesi and Lake Saimaa. The farm grows berries and vegetables.
These fresh, pure, tasty and invigorating seasonal products are mainly sold by the Teittinen at the Mikkeli market and in the yard of the tavern of the Kotileipomo Siiskosen Punainen piippu, as well as direct sales from the farm. In addition, many restaurants and kitchens in the surrounding area are their customers.
The farm uses conventional farming techniques, with rotation playing an important role. The farm also uses a lot of weeding and hoeing to minimise the use of pesticides.
We strive to produce the cleanest and tastiest food possible for our customers.
- farmer Jarkko Teittinen
Teittinen's farm has also received national recognition: The Finnish Vegetables Association awarded them with the 2016 Fruit and Berry Producer of the Year Award for their good quality and reputable performance.

Contact
Jarkko Teittinen or Maarit Syrjälä-Teittinen
044 5509530 or 040 7345467
marjatilateittinen(at)gmail.com

D.O. Saimaa -labelled products
Berries
strawberry
raspberry
blueberry
blackcurrant
redcurrant
chokeberry
gooseberry
Berry products
Fruit juices
sparkling drinks
Mulled wine
jams
sauces
jellies
syrups
dried berry powders
Vegetables and root vegetables
potato
peas
onion bundles
carrot bundles